Let's be fair: can you really hold business meetings in English? Or do you sometimes think, 'that sales meeting could have gone a bit smoother'? Or are you aware of the fact that your business partner would appreciate you handling the English language somewhat better?
We completely understand. Flow Languages is therefore introducing the Go Flow Masterclass. A highly effective masterclass that genuinely helps you set and reach your goals, and improve your sales results.
So, what are you waiting for? Just Go Flow!
GO FLOW BUSINESS ENGLISH FOR MEETINGS
Go Flow Masterclass
Would you like to learn how to be more effective in your international meetings and discussions in one evening? Join our masterclass to find out just how simple it can be. By using basic communication strategies and applying the ground rules for grammar, we can help you to become clearer and more concise in reaching mutual decisions during a meeting.
As an added bonus, we will cover a couple of well-known business idioms that often help native speakers tackle difficult issues with greater ease.
After the masterclass you should be able to:
express yourself more clearly and with confidence in English;
be more specific and concrete in your explanations in business;
have more control over a conversation;
use some native sounding expressions to help get your point across more effectively.
Don't miss out on this chance to jump start your ability to communicate and become more effective in Business English.
NOTE: Limited to a select number of participants and to those with a B1/B2 level of English only.
For those looking to build up a more solid foundation and understanding of Business English.
Your teacher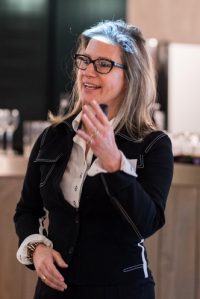 Sabine Heijmans (born in Canada) is an experienced English teacher who has the ability to quickly tackle your problems when you are using the English language. She'll help you improve your knowledge of English in no time.
Go Flow Masterclass can also be held at your company. Just contact us for additional information.
Masterclass
The Go Flow Masterclass is available upon request.
Call (+31 416 650320) or mail (info@flowlanguages.nl) for the possibilities.
Submit